New Zealand
GEOGRAPHIE
Capital City
Political_regime
monarchie constitutionnelle (Commonwealth)
Continent
Oceania
Area (km2)
270,467
Neighboring countries
DEMOGRAPHIE
Population (2011)
4,298,656
Languages
English(Main)Maori
Religion
14,9% anglican, 12,4% catholiques, 10,9% presbytér
ECONOMIE
Currency
New Zealand Dollar
Currency code ISO3
NZD
1.7756 (26 September 2020)
EUR

| | | | | | | | |
| --- | --- | --- | --- | --- | --- | --- | --- |
| 1 | 5 | 10 | 50 | 100 | 200 | 500 | 1000 |
| | | | | | | | |
USD

| | | | | | | | |
| --- | --- | --- | --- | --- | --- | --- | --- |
| 1 | 5 | 10 | 50 | 100 | 200 | 500 | 1000 |
| | | | | | | | |
Travel
Flag

country Code ISO2
NZ
Telephone Index
64
Time zone
Electrical Standards
Voltage : 230 V Frequency : 50 Hz
Type of electrical outlets :
I
Administrative_formalities
passeport
Metric
SI
Health
pas d'obligation
Budget
repas : 20-40 NZD
chambre 100-200 NZD
Season
Entre Novembre et Avril
Wildlife
Le Dauphin d'Hector, le Kiwi (oiseau nocturne qui ne vole pas), les moutons
Flora
Le Kauri (arbre géant), les fougères géantes, les Pohutukawa (arbres à fleurs rouges en été)
Tosee
Une croisière dans la Baie des Iles au milieu des dauphins Les jardins botaniques Profiter des paysages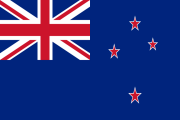 Other countries in the world, their converters
Get in the blink of an eye the ID from a foreign country : currency, index telephone, electrical outlets, jet lag, language etc. ....
For all these practical information and useful, choose your country by flying over the map or by selecting it from the dropdown list.
Then you can access directly to the various converters (currency, time zone ...) from the background information of the identity card of the chosen country.
Click on the map or select a country here :